I've always been emotionally sensitive, but in the past few years I've noticed that my sensitivity has increased. Part of it I can attribute to my going through hormonal changes. It doesn't take much anymore to make me feel hurt or guilty or angry. I deal with it through medication, awareness, and stress reduction. Quiet seclusion is one of my favorite methods.
Unless you're hiding in the wilderness somewhere or in the depths of Alzheimer's, you're aware of the many conflicts that are going on that threaten the balance of world relations. The US has isolated itself with its current administration's foreign policy and the Middle East is on the brink of a religious war. North Korea talks about their nuclear bombs they're going to use, making Japan very jittery. I never thought that news about Fidel Castro's medical problems would be such a welcome relief.
It came to me why I have latched onto knitting and reading knitting blogs over the last year. I am desperate for some relief from all the horrible things that I see on the news. I turned on local news yesterday, something I don't normally do, and saw report after report of people doing awful things to each other. One was on a good samaritan stopping a man from kidnapping a woman and her two children at the zoo so in a way it was good news, but it reminded me that an innocuous trip with one's children is not one hundred percent safe. I used to listen to the news religiously in the morning and evening. Now it's just the morning and even then there are times when I shut it off. I would start my weekend mornings with listening to NPR news followed by their programming. Lately I haven't been doing that. I'd rather go to my favorite websites and read about someone's observations of the events in their own lives. I'm seeking that seclusion that helps me deal with my own emotional turmoil.
If it weren't for newspapers and the Internet, there would be no resources for me to seek out the news. Connection with the rest of the world is important. You can't make a difference in your community if you cut yourself off from it. For me, it's the silence that is so important. I work in a noisy office. The last thing I want to do at the end of the day is bombard myself with more noise. Give me an online newspaper and dinner and I'm happy.
All I need now is a mouse that can be operated by my foot so that I can knit and read the news at the same time. Get at it inventors!
Knitting stuff
I'm not so much a yarn freak as a book freak. I can't tell you the number of knitting books I've picked up in the last three plus years but they outnumber my cookbooks, my humor books, and my art books. It's the designing part of it that attracts me as well as having a library I can turn to when I'm looking for a project to do. I find a book, fall in love with some of the patterns in it, and before you know it it's on my bookshelf. Lately I've been more selective, but haven't really slowed down. Ray is having a moving sale at his Knitivity site so while I was perusing his list, I found this: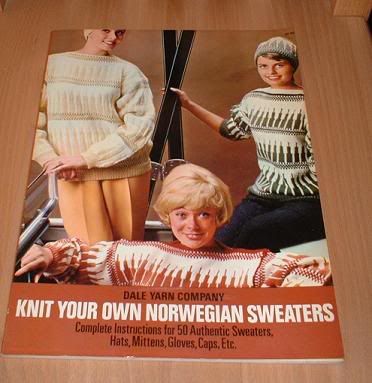 I had to have it. Once I got it, I found some patterns that I would most likely use later on. Don't you love the model at the bottom? The rabbitty teeth really make her.
Amazon is evil. They would put in my Gold Box this at nearly half price at a time when I can't take advantage of it. Evil! Evil! A pox upon them, the scurvy swine!
Off to go play with yarn and chat with the grrrrls.